All names have been changed to protect the identities of the interviewees. Illustrations and photos by Madhushree.
I am not a fan of Bike Taxis
I have ridden a bike taxi four times. I was short of money all four times, so an auto or a cab was out of the question, and I didn't have easy access to the bus. In India, three leading aggregator platforms- Ola, Uber and Rapido provide bike taxi services. A trip that costs Rs 100 by auto would cost Rs 40 on a two-wheeler. The process is the same– you book a ride, a scooter or motorcycle driver shows up, you share the OTP, and they drop you at your destination. However, a two-wheeler taxi differs significantly from a three or four-wheeler. The two-wheeler driver often might not have an extra helmet for the passenger. All four times that I travelled by bike taxi, I was gripped by anxiety over the drivers speeding or missing a speed breaker or a pothole. It doesn't help that they must keep checking the navigation on their phones, placed delicately between their legs, and be mindful of the customers.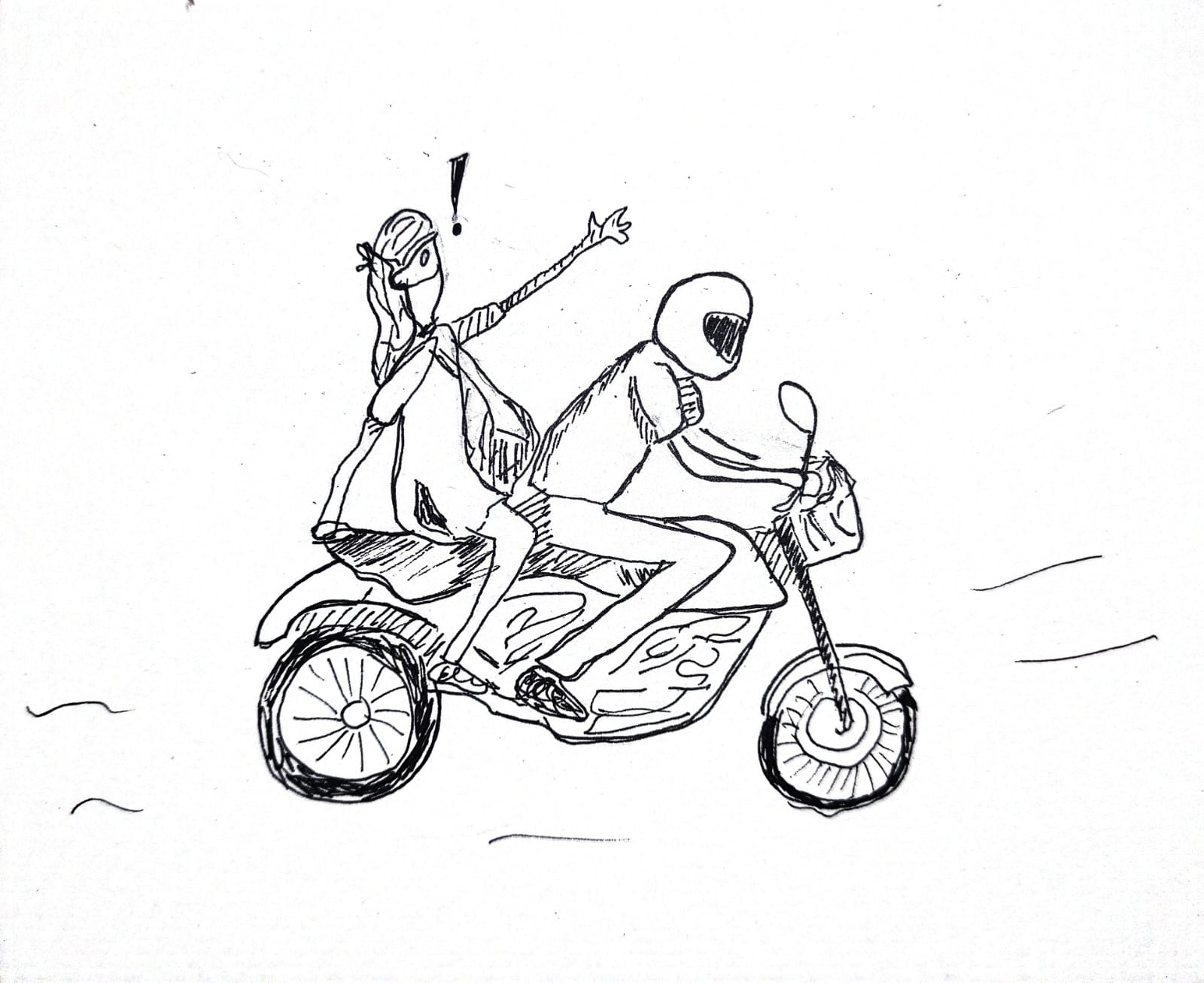 According to the Ministry of Road Transport & Highways report, Road Accidents in India (2020), two-wheeler riders had the highest share of road fatalities in 2020 (43.5%) 1. The emergence of bike taxi services in cities like Dhaka, Santo Domingo and Santiago caused a statistically significant increase in motorcycle ownership2 3. However, in Dhaka, the lack of regulation, untempered growth of e-ride hailing services and shortage of seasoned two-wheeler drivers allowed inexperienced drivers to join these services, often working long hours. 4 Against this backdrop, it is necessary to evaluate the safety implications of bike taxis on Indian roads.
---
Taxis vs Auto Drivers
If you've been keeping up with the news, you might have seen the autorickshaw strikes against bike taxis in Pune on 28 November 2022. A day later, the rickshaw drivers resumed work but gave the concerned authorities until 12 December to ban bike taxis. If the authorities don't comply, the rickshaw drivers will go on an indefinite strike.
I remember one of my bike taxi drivers telling me they had to be discrete while picking up customers. If recognised, auto drivers would vandalise their vehicles or deflate their tires. While I am not a fan of bike taxis, harassing the drivers is wrong, especially when they are the least influential stakeholders in this conflict.
The bike taxi dispute has been an issue all over India. Drivers have even faced challans and fines up to Rs 50005 for illegally plying their vehicles. Illegal how? According to the Motor Vehicles Act 1989, for a vehicle owner to provide ride-hailing services, they must have a license and undergo a few other regulatory processes (like the yellow number plates on the back of cabs and autos). An Amendment to the MV Act in 2019 made it possible for individual states to provide licenses to aggregator platforms. However, the implementation has been messy. In Karnataka, aggregators must comply with the Karnataka On-demand Transportation Technology Aggregators Rules, 2016.
"The transport agency claimed that cab aggregators had not yet complied with regulations requiring the installation of panic buttons, GPS-enabled tracking, the establishment of a control centre, and the establishment of a grievance cell, among other things."6
Although cab aggregators have to apply to obtain a license in Maharashtra, many continue plying their bike taxis without permits.
"We are pained to observe that despite such amended versions of statutory provisions brought into force in 2019 and guidelines framed in 2020 (by the Centre), the state government permitted aggregators to operate in Maharashtra without insisting on compliance of statutory regulations," the high court noted in the order.

"How are they (operators) plying without a licence? That is complete lawlessness… These officers have turned a blind eye and are not seeing whether operators have licences? That is why we are facing so many problems," the Bombay High Court7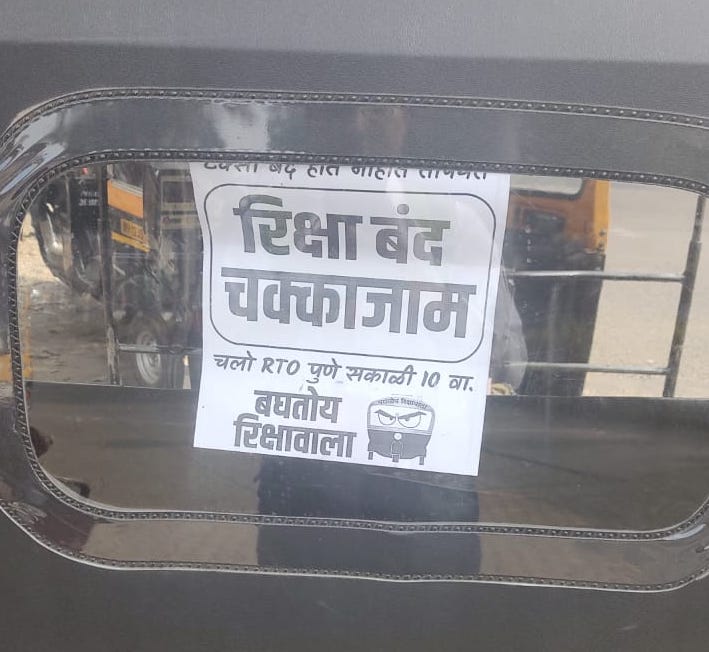 Auto rickshaw drivers remain hostile to the idea of bike taxis. They have been protesting bike taxis across Chandigarh, Maharashtra, Karnataka and Telangana. They feel that not only do they lose their customers to bike taxis due to the predatory pricing, but it is also unfair. As Shyam, an auto driver in Pune, put it, "Now every year we have to undergo a series of processes: to get our meters checked, to get the conditions of our vehicles checked… We have to pay multiple taxes. The RTO has provided us with meters. Do two-wheelers have that? The people who take a rickshaw will continue to take a rickshaw, so I don't feel losing business is an issue. But we have a permit, and the two-wheelers don't. That is the problem. It is illegal. They don't have a yellow number plate. Give them a meter and even the playing field."
Another rickshaw driver from Pune, Ramesh, disagrees, "We get less fare as auto drivers because we lose customers. It is bad for business." When asked whether getting licenses and meters for bike taxis seemed like a fair compromise, he retorted, "Can you even fit a meter on a two-wheeler?"
---
The Unheard Perspective
Strangely enough, everyone's side of the story except for the bike taxi drivers had been covered/ reported throughout this discourse. So I set out to meet bike taxi drivers to hear what they had to say.
It took work. For starters, I could no longer book bike taxis near my house. So I travelled 12 km, alternating between riding autos and walking, to find bike taxi drivers. Two hours in, I asked a tea shop owner if he knew someone who was a bike taxi driver. Gazing at me suspiciously, he said no. Then he asked me if I was a news reporter. As I told him I was a student, he relaxed and gave me a few tips. He said that over the past few weeks, auto drivers had been booking fake bike taxi trips, getting hold of the bike taxi drivers and beating them up. So even if I wanted to find them, I'd have to go to an area with little to no autos. Everything made sense suddenly. Everywhere I went before had a rickshaw stand close by.
After a lot of walking around, repeated introductions ("Hey! I am not a journalist but a student. I will not take photos or videos or even ask for your name. I want to know if you have been harassed by auto drivers and understand why you took this job.") I finally found two volunteers. Ravi, a delivery worker, started working as an UBER Moto driver between shifts. However, as soon as he heard of incidents of violence and harassment, he quit UBER Moto.
Kishore started working part-time as a bike taxi driver because his other job wasn't paying enough. When asked about the strike, he said, "Some people can't afford autos. At times auto drivers go above the meter… charge double the amount. In this case, people can afford bike taxis. This was not such a big issue. They should not have targeted bike taxis."
Interestingly, as of now, Kishore finds that working as a driver is affordable. "Because my company gives me incentives: complete 7 trips, get 50 rupees; 15 rides, get 80 rupees. And if I spend 100-150 on petrol, I get 300-400 rupees."
However, Kishore finds the process of navigating with a passenger risky. "Balancing two things: customers and the navigation- stresses me a little." When asked about trouble from auto drivers, Kishore mentioned that he and two of his friends had faced some form of harassment. "My family told me not to do this after auto drivers accosted me. They booked a ride, verbally abused me, took away my key and tried to intimidate me. I said I would stop my service and uninstalled the app in front of them. Only then did they let me go. Of course, later, I re-installed it and started working. What can I do?"
---
Most bike drivers who continue to provide taxi services are doing so at a time when the regulations and legalities around bike taxis are ambiguous. Although bike taxis serve as a valuable source of income for many people who are unemployed or stuck in low-paying employment, the job is as precarious as they come. However, the perspective of auto drivers is also valid. It is unfair that they have to go through regulatory hurdles, but anyone with a bike and license can set up an account to become a bike taxi driver. In light of road fatalities data, incentivising more bikers on the road through platforms might have grave implications for rider and pedestrian safety. And while governments continue to find a way to regulate bike taxis, they fail to address the root cause leading to the demand for these services: road congestion and failing public transport systems.
But what remains clear is that regardless of the outcome of the legal back and forth, workers will bear the brunt of this quandary. In contrast, the platforms like Uber and Ola will continue to find newer ways to exploit an unregulated system and its workers.